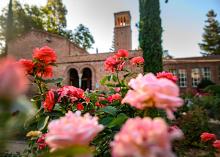 Library faculty and staff presented on an array of library services during the June 30, Go Virtual Breakout Sessions, linked below for viewing.  The library session was coordinated and moderated by Science Librarian, Chrissy Hursh.
At 4:42, Instruction Coordinator William Cuthbertson presented on how to reqeust online instruction from a librarian, ways that librarians can aid your embedding of information literacy concepts in the classroom, and on LIBR 130: Introduction to Undergraduate Research, the new GE, Area E course from the library that launches this fall.
At 13:29, Information Literacy Librarian Zohra Saulat shared a multiple of ways to connect students to librarians in virtual spaces, including via chat, individual appointments with a Subject Librarian, tips on including Librarians in your syllabus and on Blackboard, creating course-specific subject guides, and via the Library's new YouTube channel.  
At 22:44, Stefani Baldivia, from Meriam Library's Special Collections and Archives, shared the outcomes and goals of the Primary Source Literacy Instruction program, the digital archives available to the CSUC community, and advice in integrating archival collection and staff in the virtual classroom. 
At 32:51, Jodi Shepherd, Head of Acquisitions, Collection Management and Evaluation, reviewed a number of different means to access electronic materials, such as articles, ebook,s and some phycial materials, for fall courses and individual checkout.  The new Request feature was highlighted, as were additional details about service rollouts in preparation for fall.
The remainder of the session answered questions from the audience. 
Watch the Go Virtual: Library Resources for Teaching and Learning here.