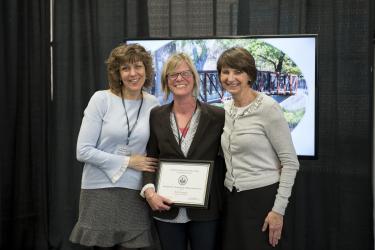 Inspired is the celebration of research and creative activity. This event is co-presented by Meriam Library and Chico State Enterprises.
The much anticipated, Inspired 2022 event will be modified for Spring 2022 with a virtual presentation and in person exhibit in the Meriam Library recognizing faculty publications, creative activities, and campus awards on April 6, 2022 at 3:30p.m. - 5:00p.m.
Zoom Link
Meeting ID: 883 5221 2199
Passcode: 270916.
Awards to be recognized:
Lantis Awardees (2020-2022)
Professional Achievement Awards (2021-2022)
Early Career Community Engagement Award
Civically Engaged Scholar
Inspired 2022 will highlight works and publications from January 1, 2021 – December 31, 2021.
In order to recognize the publications and creative works of the faculty, we ask that you submit any publications or creative works using the link below.
Share 2021 Publications and Creative Works here.
If you have any questions about the event or adding your work(s) please contact Cassie Kassel at ckassel@csuchico.edu or by phone 530-898-3019
The last day to submit works will be March 23, 2022 extended! Please contact Cassie Kassel if you missed the deadline.
---
2020 Publications and creative works
Did you have publications between January 1, 2020 – December 31, 2020? Please enter your works here.