Submitted by sbaldivia on Mon, 04/18/2022 - 4:30pm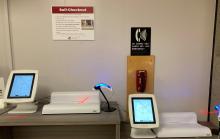 Meriam Library is delighted to launch TWO new self-checkout stations located on the First floor, across from the Circulation Desk!
These self-contained machines use smart cloud technology to checkout and desensitize books. Simply scan your Wildcat ID, follow the prompts on the kiosk, scan the barcode, and desensitize your books. Watch our IG tutorial on how to use this neat feature!
Full instructions are below:
Scan your Wildcat ID card.
Place the book on top of the demagnetizer next to the kiosk. Make sure the book spine rests against the back of the demagnetizer as shown.
3. Find the barcode on the book and use the scanner wand to check each book out. Each book should appear in a list on the kiosk screen.
4. When you're done, click FINISH on the screen to log out.
Come check them out!