Submitted by sbaldivia on Tue, 01/25/2022 - 11:06am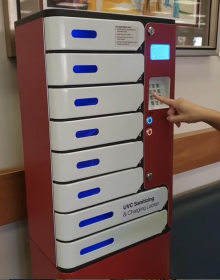 If you get easily distracted by your phone, Meriam Library has a neat new tool that will keep your device secure while you study!  
Meriam Library has four new cell phone and tablet charging lockers, one for each floor of the library. These towers allow patrons to securely lock their device to charge until they return to retrieve it! Each tower is equipped with 7 lockers and utilizes Ultraviolet light to sanitize your device WHILE it charges. 
Select the Instagram link below to watch our short "How-to" video:
https://www.instagram.com/tv/CZKdZpwPWyw/?utm_source=ig_web_copy_link 
1. Press the blue button that says Start here/ Charge.
2. Select cabinet number.
3. Enter a 4 digit password of your choice.
4. Follow instructions to retype the password you chose
5. Select your charging cord and close the door.