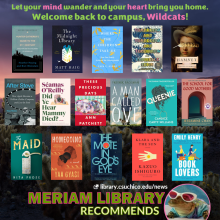 Our summer of reading recommendations ends just in time for you to get lost in your coursework, Wildcats.  We hope you've enjoyed checking out our June and July suggestions, and that you'll continue to follow along for more of our Five Favorite Books from Library personnel.  But like the good library workers we are, we're not done with our summer reading just yet!
For August we have a lot of great titles suggested by Meriam Library staff and faculty: 
Queenie by Candice Carty-Williams gives us the titular 25-year-old Jamaican-Brit who is straddling cultures and class expectations after a messy breakup (and some not-great choices in its wake).  Meanwhile Molly in Nita Prose's The Maid is navigating her own life's complexities -- including stumbling upon a murder scene during her cleaning shift at the Regency Grand Hotel. 
Gabrielle Zevin's 2022 first novel, Tomorrow, and Tomorrow, and Tomorrow is not-quite-a-love-story between two college-student game developers, and The Mote in God's Eye is Larry Niven's and Jerry Pournelle's "first-contact gone awry" science fiction classic.  
We've got more suggestions in business history, dystopian tales, new literature, and a few "feel-good" novels -- all of which are available at or through Meriam Library.
What books are you trying to finish in the days before classes begin?  Share your favorites in the comments and welcome back to campus, Wildcats!