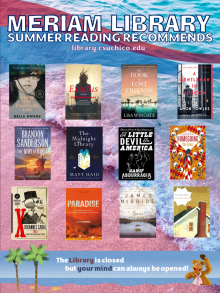 Though the Library collections are closed for the summer (see here for more news about that), we're hoping you're still onboard for Summer reading success!  To help that come about, we're sharing our recommendations and recent reads with you to get you in that beach reading mood.  We've picked books from Wallace Stegner's novel of lifelong friendship, Crossing to Safety, to Yaa Gyasi's first novel, Homegoing, about two half-sisters and their descendants' wildly different experiences in West Africa and America, to reporter Lizzie Johnson's investigation and account of the Camp Fire in Paradise: One Town's Struggle to Survive an American Wildfire, and even more.
So strap on your sun hats, Wildcats, and take a look below -- if you're got a summer read of your own that you're excited about, share it in the comments!
Meriam Library Summer Recommends 2022.pdf
A reminder that when you're back from summer vacation, you can spot our recommendations on the news screens in MLIB 116 -- or ask a librarian and we'll help you find something to read that you're sure to enjoy.  Happy Summer!