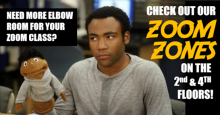 If you are looking for room to spread out during your Zoom format classes, look no further than Meriam Library's 2nd and 4th floors.  We have set up large tables on these floors to help you fit your laptop, books, and materials while you're zooming in to your online fall semester courses.
We are proud to say that the campus community has been hugely respectful of one another's needs for safety, space, and time to focus.  Your help in making that possible is what helps us to be able to offer these much-desired spaces for our students.
Come visit the Library's "Zoom Zones" and, as always, make yourself at home at Meriam!
Photo caption: Donald Glover as Troy Barnes and his puppet in the TV show Community. You can check out Community on DVD from Meriam Library!