Submitted by jgraham on Wed, 09/15/2021 - 12:27pm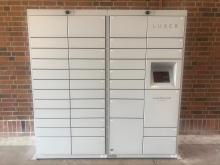 Meriam Library has acquired a block of LuxerOne lockers to facilitate 24/7 pickup of library books requested via OneSearch.  If you request a book from Meriam Library, you will receive an email from LuxerOne (support@luxerone.com) letting you know you have an item ready for pickup.  The email notification will include an access code and instructions for retrieving your item from the lockers. 
The lockers are located in the Meriam Library Breezeway. 
If you have any questions or need assistance with a locker pickup, please contact Circulation (530) 898-6501.