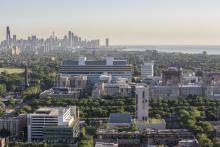 The University of Chicago has created a repository, BiblioVault, that indexes books from scholarly and university presses. 
The BiblioVault repository serves more than 90 scholarly pressess and contains digital files for more than 40,000 books.  It is continually expanding.   Most books published over the past ten years exist as electronic files originally used to print the hard copy. Older books that exist only in hard copy can be scanned to create electronic files. 
Here are some links to explore BiblioVault:  
Main page: BiblioVault - Scholarly Books
About BiblioVault: https://www.bibliovault.org/BV.about.epl
Included Presses: https://www.bibliovault.org/BV.presses.epl
If you have questions about BiblioVault or other tools for academic publications, get in touch with your Subject Librarian for help!