Submitted by ikorber on Fri, 01/19/2018 - 12:54pm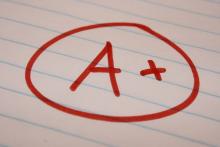 Meriam Library is partnering with the Student Learning Center to bring drop-in writing tutoring to the 4th floor of the library. Trained, faculty-recommended, and experienced peer tutors are ready to help students in any stage of the writing process. Tutors can help with:
Understanding writing goals and requirements
Planning and getting started
Developing and organizing ideas
Polishing sentences
And so much more!
Students can bring a variety of projects including, but not limited to, essays, research projects, reports, resumes, or graduate school application materials. Even blog posts!
Drop-in hours: Monday – Thursday 5:00 p.m. – 7:00 p.m. & Sunday 3:00 p.m. – 6:00 p.m.
We're located on the 4th floor of the library to the left of the elevators. Drop-in is on a first come, first served basis. Sessions are limited to 30 minutes each.
Can't come in? Online writing tutoring is also available on the Student Learning Center website. All papers submitted will be returned with feedback within 1-3 business days.
Need a presentation for your class? Request one here.