Submitted by pkruger on Mon, 10/08/2018 - 1:52pm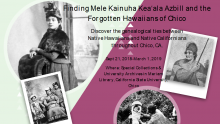 The Project
The exhibit displays the genealogical ties between Native Hawaiians and Native Californians throughout Chico, CA. Intercultural encounters between Native Hawaiians and Native Californians are documented from 1834 (Kauanui 2007:139). This display is part of a larger study, which aims to investigate the linkages between the immigration of Native Hawaiians to California and their interracial marriages with California Native tribes. The history of Native Americans and Native Hawaiians has helped shape the cultural identity of Chico, giving cultural lineage to many past, present, and future generations. Evidence from archival documents in Hawai'i and Chico on the experiences of Native Hawaiians from the 1830s, including their journey to Chico, social status, and extensive genealogies will contribute to addressing the current gap in literature on California and Hawaiian history.
About the Curator
The global indigenous and cultural rights movements have captured the attention of many youths of native ancestry who seek to learn about and recover traditions, languages, and lifeways that were suppressed and erased through colonization and formal state policies of forced assimilation. This is true for Native Hawaiian youth and young adults, like myself, who are coming of age in an era where the struggle for sovereignty, language revitalization, and decolonization are in the news on a daily basis.
I am second generation, part Native Hawaiian, raised in Northern California. I am of the four percent of Native Hawaiian/Pacific Islanders that have graduated with a four-year degree and amongst the less-than-one percent to pursue a graduate degree. My thirst to learn more about my Native Hawaiian and Native American heritage and past led me to embrace my cultural identity. Reading ethnographies, mythologies, and biographies of Hawaiian royalty and leaders helped shape my view of indigenous people as strong and resilient with a culturally embroiled past. Tracing the genealogies of Native Hawaiian and Native Americans started to answer questions on my family's identity, my roots, and cultural values that extended from Hawai'i to California and revealed the diverse cultural history of the North State where I live.
As I stand on the shoulder of giants, I am constantly reminded of how far I have come as an educated indigenous woman. I have risen from the foundation of cultural desecration and stigmas, breaking the barriers of indigenous statics. Through the opportunities that I have established in my graduate career, I have been able to create a strong foundation and knowledge of Native Hawaiian and Native American relations, cultural awareness, and self-determination.
Dates: Sept 21, 2018-March 1, 2019
Curator: Ashlyn Weaver
Location: MLIB 305, Special Collections & University Archives in Meriam Library, California State University, Chico