Submitted by jgraham on Tue, 01/24/2017 - 4:12pm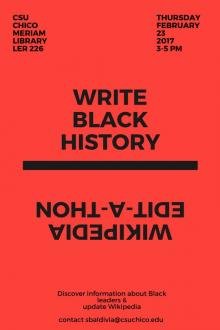 Anybody can edit Wikipedia! Let's gather to strengthen Wikipedia's scope and content related to Black History. Join Meriam Library on February 23rd in MLIB 226 from 3-5pm, with the goal of collaborating to enhance and expand on Wikipedia articles that document black leaders, thinkers, and artists throughout history. In this interactive workshop, users will:
Create a Wikipedia account and learn the 5 Pillars of Wikipedia.
Research and update citations for Wikipedia pages important to Black History.
All are welcome. No experience is required. Reference materials will be provided. If you wish to participate, please contact sbaldivia@csuchico.edu