Submitted by jrshepherd on Sat, 04/23/2022 - 10:43am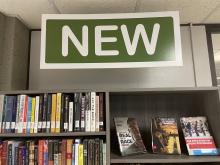 The New Bookshelf is up on the 1st floor.
Come check them out- literally.
A Few New Titles:
---
Title: Afropessimism
Call Number:
E185.97.W6128 A3 2021
Description (from back cover):
Longlisted for the National Book Award and hailed as "a bellwether of things to come" (Aaron Robertson), Afropessimism exploded conventional theories of race relations in America, presenting the
tenets of an intellectual movement that sees Blackness through the lens of perpetual slavery. Drawing on the works of Gramsci and Fanon, as well as on literature, film, and critical theory, Frank B. Wilderson III, one of our "boldest and most unflinching theorists of the indispensability ... of anti-Black violence and racism" (Khalil Gibran Muhammad), powerfully demonstrates that the social construct of slavery is not, in fact, a relic of the past, but the very engine that powers our civilization. Without this master-slave dynamic, Wilderson argues, the calculus bolstering world civilization would collapse.
Publisher:
Little, Brown and Company
Call Number:
HQ76.3.G72 L656 2021
In
Gay Bar,
 the author embarks upon a transatlantic tour of the hangouts that marked his life, with each club, pub, and dive revealing itself to be a palimpsest of queer history. In prose as exuberant as a hit of poppers and dazzling as a disco ball, he time-travels from Hollywood nights in the 1970s to a warren of cruising tunnels built beneath London in the 1770s; from chichi bars in the aftermath of AIDS to today's fluid queer spaces; through glory holes, into Crisco-slicked dungeons and down San Francisco alleys. He charts police raids and riots, posing and passing out—and a chance encounter one restless night that would change his life forever. 
The journey that emerges is a stylish and nuanced inquiry into the connection between place and identity—a tale of liberation, but one that invites us to go beyond the simplified Stonewall mythology and enter lesser-known battlefields in the struggle to carve out a territory. Elegiac, randy, and sparkling with wry wit, Gay Bar is at once a serious critical inquiry, a love story and an epic night out to remember.
Far from being a staid survey of an art historical practice, Freedom of the Presses intervenes in an ongoing discussion about art and activism in the present day by considering the place of the art book in the 21st century. The publisher, Booklyn, has been involved in this conversation since 1999 when a group of six artists decided to band together to promote contemporary artists' books and publications. Booklyn's focus has always been voracious, encompassing street art, punk and activist culture, alongside more conventional artists' books.
With essays by: Kurt Allerslev, Tia Blassingame, Stephen Dupont, Karen Eliot, Bridget Elmer, Fly, Ganzeer, Sarah Kirk Hanley, Richard Lee, Florencia San Martin, Mobile Print Power, Janelle Rebel, Aaron Sinift, Suzy Taraba, Deborah Ultan, Marshall Weber, Anton Wurth and Xu Bing
Description (from publisher):
"
What's Good
is a work of passionate lyrical analysis, a set of freewheeling liner
notes
, and a love letter to the most vital American art form of the last half century. Over a series of short chapters, each centered on a different lyric, Daniel Levin Becker considers how
rap
's use of
language
operates and evolves at levels ranging from the local (slang, rhyme) to the analytical (quotation, transcription) to the philosophical (morality, criticism, irony), celebrating the pleasures and perils of any attempt to decipher its meaning-making technologies. Ranging from Sugarhill Gang to UGK to Young M.A, Rakim to Rick Ross to Rae Sremmurd, Jay-Z to Drake to Snoop Dogg,
What's Good
reads with the momentum of a deftly curated mixtape, drawing you into the conversation and teaching you to read it as it goes. A book for committed hip-hop heads, curious neophytes, armchair linguists, and everyone in between"
Description (from publisher):
Presenting examples from the fields of critical race studies, cultural resource management, digital archaeology, environmental studies, and heritage studies, this volume demonstrates the many different ways archaeology can be used to contest social injustice.
Introduction / Christopher P. Barton -- "But I'm a Paleolithic Archaeologist!": Queer Theory, Paleolithic Art, and Social Justice / Nathan Klembara -- Bodies for Evidence: The Fort Laurens Ambush and Archaeological Perspectives on Legacies of Interpersonal Violence on the Colonial American Frontier / Kyle Somerville -- The Archaeology of Recovery in the Golden Triangle of Mali: Salvage Archaeology Following Jihadist Occupation / Daouda Keita, Moussa dit Martin Tessougue, and Yamoussa Fane -- Heritage Activism in Quintana Roo, Mexico: Assembling New Futures through an Umbrella Heritage Practice / Tiffany Cain and Kasey Diserens Morgan -- Ireland's Heritage and the Production of Knowledge in Historical Archaeology / Stephen Brighton and Andrew Webster -- Race and Play: Toys and the Socialization of Children into Racial Ideologies / Christopher P. Barton -- Himalayan Heritage in Danger: How Digital Technology May Save the Cultural Heritage of Uttarakhand, India / Bernard Means and Vinod Nautiyal -- Data Sharing and Database Management as Activism, or Solving the Curation Crisis One Small Project at a Time / Stacey Camp -- "Free for the Taking": Archaeology and Environmental Justice in Setauket, New York / Christopher Matthews -- Engaging Archaeology as Social Justice for Navajo Communities / Kerry Thompson and Ora V. Marek-Martinez -- Conclusion: Beyond Archaeology as Science: Activist Archaeology for Social Action / Joe Watkins