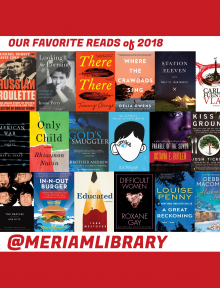 Everyone loves an end of year list, and your Meriam Library staff and faculty are no different!  So here for you curious readers is our list of favorite titles of those we read in the past year.  Our favorites span fiction in multiple genres, history, food/earth science, and business, and we hope you'll find something to enjoy here.  Where the library already owns a copy, those have been linked to OneSearch -- but we'll soon have all of these titles available for checkout.  Grab your own new favorite to enjoy a little break from screentime over the holiday break! 
Titles:
A Great Reckoning, recommended by Library Systems's Jeannie Graham
Alaskan Holiday, recommended by Library Administrative Support, Laurie Ratterree
American War, recommended by Librarian George Thompson
The Beatles: A Biography, recommended by Librarian Marc Langston
The Confession (available to checkout on our Kindles), recommended by Acquisition's Paula Scholtes
Difficult Women, recommended by Librarian Irene Korber
Educated: A Memoir, recommended by both Circulation's Karen Wagner and Librarian Donna Greenberg
God's Smuggler, recommended by Acquisuitions's Elizabeth Fiore
In-N-Out: A Behind-the-Counter Look at the Fast-Food Chain That Breaks All the Rules, recommended by Library Asdminsitrative Support, Elizabeth Tibbitts
Kiss the Ground: How the Food You Eat Can Reverse Climate Change, Heal Your Body & Ultimately Save Our World, recommended by Librarian Pam Kruger
Looking for Lorraine: The Radiant and Radical Life of Lorraine Hansberry, recommended by Stefani Baldivia
Midnight's Children, recommended by Library Dean Patrick Newell
Only Child, recommended by Acquisitions's Paula Scholtes
The Painter, recommended by Librarian William Cuthbertson
Parable of the Sower, recommended by Library Systems's Ryan Schwab
Russian Roulette: The Inside Story of Putin's War on America and the Election of Donald Trump, recommended by Librarian William Cuthbertson
Station Eleven, recommended by Acquisitions's Julie Steele
There, There, recommended by Librarian Zohra Saulat
Vlad, recommended by Acquisitions's Paula Scholtes
Where the Crawdads Sing, recommended by Librarian Jodi Shepherd
Wonder, recommended by Librarian Pam Kruger
---
Do you have a favorite to share?  Post the title in the comments, or befriend @meriamlibrary on Instagram and share your favorites there!  We'd love to hear what your reading, and if we don't have it to lend, your suggestions may end up on our shelves for others to see!