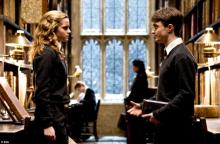 We are thrilled to announce that the library is now lending DVDs of popular Movies and TV shows to library patrons.  In the collection you will find Game of Thrones, Riverdale, Get Out, Doctor Who, Smoke Signals, The Wire, Star Wars films, superhero movies, science-fiction, international films, drama, Black cinema, and Harry Potter movies...  really, there are so many you should just click here to browse through them all.  Better yet, drop by the 2nd Floor Popular Media section (next to the Copy Center) to check them out all at once, as well as our ever-expanding collection of Graphic Novels.
The lending period on DVDs is 7 days.  
Here is a picture of someone not believing that this is really true.  
But it is!  (Also, this is a scene from Smoke Signals, the movie you never knew Sherman Alexie wrote. Check it out!)
If you aren't seeing something you like, remember that new titles are being added continually.  And if there is something you really want to see, fill our our item request form so that we can see about adding it to the library's collection.