Submitted by dgreenberg on Mon, 04/16/2018 - 4:39pm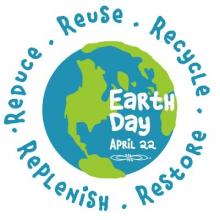 April 2018 is the 48th Anniversary of Earth Month® and Earth Day. This year's theme is plastic pollution. Here is a link for more information on Earth Month: https://www.earth-month.org/.
This upcoming Sunday, April 22 is Earth Day 2018 with the theme End Plastic Pollution.
"From poisoning and injuring marine life to disrupting human hormones, from littering our beaches and landscapes to clogging our waste streams and landfills, the exponential growth of plastics is now threatening the survival of our planet.
In response, Earth Day 2018 is dedicated to providing the information and inspiration needed to fundamentally change human attitude and behavior about plastics."
Make a pledge to reduce your use of plastic. Here is a link to get you started https://www.earthday.org/.
Check out these books relating to the environment:
Climate change: an encyclopedia of science, society, and solutions
A farewell to ice: a report from the Arctic
The seasons alter: how to save our planet in six acts
Endangered economies: how the neglect of nature threatens our prosperity
Natural resources and the informed citizen