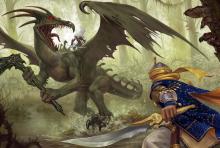 We had 71 entries into our RPG dice drawing last month -- 71! 
Congratulations to our winners:
Deen S.; Terence Z.; Martin L.; Tony T.; Cody C.; Charity C.; Brandon H.; Cindy V.; Zion F.; and Aubrey M.
Check the email that you listed on your entry, or get in touch with Librarian William Cuthbertson to come pick out your set of dice!  And congratulations again!  Even if you didn't win, we hope we've led some of you to some new options for your roleplaying, whatever genre interests you most.  
If you're curious about what games people are most interested in, according to the entries, many players are most curious about Pathfinder from Paizo Publishing -- you can expect to see the Second edition rulebooks on our shelves next year!  Coming in second is Call of Cthulhu from Chaosium. (We are happy to see horror games live close to your heart!) Take a look at the word cloud below for more titles that came up on our drawing entries.
A special shoutout to the fan of The Green Knight, RPG -- which is a one-time publication released by film studio A24 for its film of the same name (based, of course, on the original Medieval poem).  That's the kind of commitment to lore we role-players love (and we'll have to see about adding it to our collection). :) 
Was there a game you wanted to see on our display but didn't?  Let us know in the comments -- or just email William. :)
Happy gaming, Wildcats!