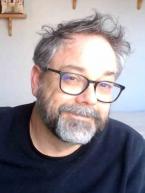 Title:
Information Literacy Instruction Coordinator; Associate Librarian
Student Meeting Hours:
FALL 2022: Click on the button below to see my current Student Meeting Times!
William Cuthbertson is Information Literacy Instruction Coordinator and Undergraduate Engagement Librarian at California State University Chico.  William's academic work focuses on increasing students' investment in their academic success, and he has developed courses in undergraduate research skills for first year and first-generation students.  William is Meriam Library's liaison to Undergraduate Education and to the Departments of Political Science & Criminal Justice, Social Work, Social Science & Special Programs, and Geography & Planning.  For Fall 2022, he is also the liaison for the College of Business and its programs in Economics, Information Systems, Finance, and Accounting, Management, and Marketing. He manages the library's Popular Materials collection of Film/Media/DVDs.  
See William's profile at the Office of EDI's website for the 1st Generation Faculty and Staff group.
William's 2020 EDX Chico presentation, Building Community in the Classroom, is embedded below.
Handouts:
You can find handouts for Writing Annotated Bibliography Entries, Literature Reviews, Research Questions, and for creating mythological creatures using Boolean logic at the Library Curricula page, and in this folder of Common Handouts.
Assessment Reports:
2018-2023 Information Literacy Instruction at Meriam Library (Feb 2023)
2019 OneSearch Discovery Puzzle Assessment Results (Nov 2019)
Projects and presentations include the following:
Digital learning objects authored and relevant to information literacy instruction include the following:
William's contributions to the Scholarship & Creative Works repository at the University of Nothern Colorado's Digital UNC are openly accessible.
William earned his MLS from Indiana University, and BA from Westminster College in Salt Lake City, Utah. Before coming to the California State University system, William was an Information Literacy Librarian at the University of Northern Colorado, where he was the 2014-2015, 2015-2016, and 2016-2017 University Libraries Faculty Fellow for the Center for Teaching and Learning. He was formerly the librarian for Government Information and Political Science at the University of Colorado Boulder, Miami University of Ohio, and at Loyola University Chicago.