Submitted by sbaldivia on Mon, 05/02/2022 - 12:25pm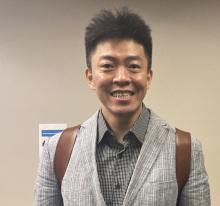 Meriam Library welcomes our new Library Dean, Zheng "John" Wang!
     Mr. Wang has worked at the University Libraries of Notre Dame since 2012 where he served as Associate University Librarian of Digital Innovation, Technology, and Effectiveness. Wang is a passionate and experienced leader, strategist, and architect with exceptional strategic planning skills and the ability to direct complex initiatives from concept to full operation. His creativity, energy, and team-building skills will be a great asset to the Library and Chico State.
     "Zheng "John" Wang comes to us from the University of Notre Dame through an extraordinarily competitive search," stated Librarian William Cuthbertson, who served as the MLIB Dean Search Committee Chair.  "His forward-thinking about the future of libraries, deep familiarity with the digital spaces we inhabit, and good humor in the face of the many challenges of the past few years will serve the Meriam Library and our community of users well.  I am thrilled we have the pleasure of welcoming John to Chico State!"
Adapted from an Academic Affairs announcement by Provost Larson, January 19, 2022