Submitted by mmussuto on Wed, 12/14/2022 - 1:48pm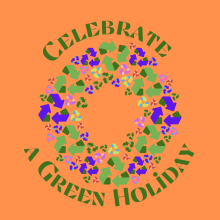 Lights, tinsel, trees, wrapping paper, bows, and so much more stuff gathers around us during the holiday season. How do you enjoy all the pageantry of the season while leaving a small climate change footprint?  Here are a few holiday climate change and sustainability tips.
Use LED lights and only turn them on when you're home.
 LED lights consume 80% less energy than traditional holiday lights and still give off the same warm, glowy vibes. And bonus–they last 25 times longer!

Check with your local hardware store or large home improvement stores like Home Depot and Lowe's to recycle old holiday lights.

Check with your local library…maybe they recycle lights too!
Recycle your fresh Christmas tree
Most trees that aren't recycled end up in landfills, but many cities have programs to help recycle your tree.

See what programs are available near you and help turn your tree into things like mulch or wood chips, all of which benefit your community.
Eco-Friendly Décor
Things like tinsel or store-bought garland take years to decompose, meaning more waste sitting in our landfills.

Embrace your inner DIY expert and create your own garland out of popcorn and dried fruit. Or, design your own gingerbread ornaments.
Wrapping paper
Most holiday wrapping paper can't be recycled because it's textured, contains glitter, or is metallic.

Instead of using commercial wrapping paper, try the Japanese art of Furoshiki and wrap your gifts in beautiful, reusable cloth packaging
Still want to wrap gifts in paper?
Look for paper that's recyclable

Or channel your inner DIY and use fun household items like old cards, newspapers, magazines, or posters!