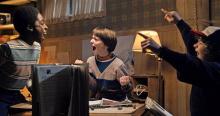 Stop by the Second Floor before October 15th to browse our display of Meriam Library's collection of Roleplaying Game Books!
If you aren't familiar with them, the popularity of RPGs like Dungeons and Dragons have been on rise lately -- particularly with the ease of online communications and software specially made to help you game with your friends wherever you each individually might be.  With one person directing the flow and pace of the narrative, other players act as characters within the story.  Their actions -- and the roll of a few dice -- determine how the story unfolds.   
We like RPGS at Meriam because they combine group collaboration with a shared storytelling experience.  Everyone works together to create a cohesive narrative. And in addition to influencing films, television, and popular culture, roleplaying games can be a way to both represent and understand cultures and experiences different from those we experience first-hand.
An RPG book like Harlem Unbound for Call of Cthulhu gives a rich history of New York City's world renown neighborhood as a center of Black culture in America, while at the same time providing a setting for a horror narrative akin to the popular series, Lovecraft Country (itself based on a book).  Other titles like Monster of the Week provide an experience like that of Stranger Things, where ordinary people confront unexpected evils.  Or sometimes, you enjoy a film or game setting so much -- be it science-fiction like Star Wars, Alien, or Cyberpunk, or fantasy like Dragon Age, Age of Sigmar, or The Witcher -- you want to spend a little more time in that world.  That's what RPGS are for.  
Saturday, October 16th is FREE RPG DAY -- a chance for new players to visit local games stores to try out an RPG with friends,

and to take home a free starter publication from the companies that produce these games.  Here in Chico, Heroes Corner at 2540 Esplanade is celebrating with adventures for new players starting at 1100AM and 200PM that day, and will have free publications on-hand.  
Until then, you can stop by Meriam's 2nd Floor to find a book to check out for your friends, and to enter to win our drawing for one of 10 sets of RPG dice -- the weirdly shaped dice you'll need to get the most out of Dungeons and Dragons and dozens of other games.
Let us know which books are your favorites -- or what you 'd like to see more of at Meriam Library! 
All the books on these and other displays can be checked out free for 8 weeks to Chico State students.  Game on!