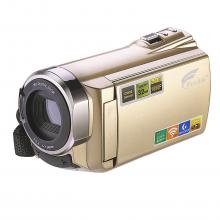 Takes high-quality video and photos even in low-light situations
Set Up and Use
Install the battery and SD card
Open the viewing screen to the left of the battery to turn the camcorder on
Change settings using the MENU button on the left side of the camcorder
The camcorder automatically enters video mode. You can switch to photos or audio using the MODE button on the top of the camcorder
Use the PHOTO button on the top of the camcorder to take pictures and the START/STOP button to begin/end video or audio recording
Getting the Photos/Video off of the Camera
Press the PLAY button on the left side of the camcorder to review photos and video
Use the USB cable provided with the camera and connect it to a computer. The camera also has WiFi and can be accessed using the "iSmart DV" App (via Google Play).
Find the camera in the File Explorer. Photos and videos will be saved under the folder DCIM\100MEDIA.
Copy your pictures and movies over to a flash drive or cloud storage space.
You can check this out from:
1st floor Circulation Desk
Lost/Damaged Equipment Fee: