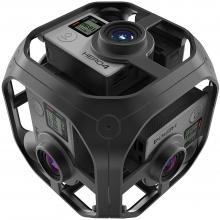 Omni is GoPro's synchronized six-camera spherical array.  It produces high-resolution VR and immersive content.
Proprietary hardware enables pixel-level synchronization between all six HERO4 Black cameras.
Six cameras act as one: interact with the primary camera in the array to configure settings or initiate the start/stop of recording for all six cameras.
8K capture: produce high-res content for VR viewing. Omni may also be used for "over capture"; capture 8K and then extract an HD deliverable.
Includes frame, 6 Hero4 cameras, batteries, chargers, SD-cards, cables, and more.
You can check this out from:
1st floor Circulation Desk
Lost/Damaged Equipment Fee: