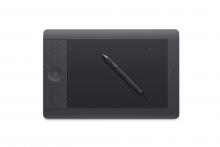 Intuos tablets are designed to make drawing and other functions easier to accomplish on a computer. It turns your mouse into a pen and gives you a range of quick controls. The pen may take a bit to get used to, but after an hour or two it'll feel just like pen on paper.
Setup
Plug Intuos tablet into computer

Driver will install automatically and will be ready for use after this.
Buttons
The buttons located on the Intuos tablets must be edited by the user before they can be bound to specific keys.
Type in the windows search box "Wacom Tablet Properties."
Look for the tab that shows the buttons with a drop down for binding the desired key.
Pen
The pen also has a few editable buttons.
To use the pen simply hover the pen over the tablet to move the cursor. Once you are in the desired location apply pressure to the tablet with the pen to simulate holding down the left mouse button.
A great feature of the pen and tablet is that it's pressure sensitive, so when drawing you should notice different results when different amounts of pressure are applied.
Includes:
Tablet

Stylus

USB to mini cable
You can check this out from:
1st floor Circulation Desk
Lost/Damaged Equipment Fee: