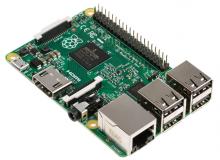 Raspberry Pi is a compact computer that plugs into a monitor and can use a mouse and keyboard. Prior knowledge must be obtained before attempting to work with a Raspberry Pi, but documentation can be found online.
Necessary Items (not provided)
The user must come ready with a micro-sd card.
The micro-SD card must also have installed one of the various operating systems the can run on a Raspberry Pi. There are many guides online as to how to do this and instruction for formatted the SD card can be different between operating systems. Here's a link to the official guide: https://www.raspberrypi.org/documentation/installation/installing-images/
After that, you need a screen that can support an HDMI cable. A converter to HDMI should work just as well.
A mouse and a keyboard will also be needed
A wall outlet to use with the power source will also be needed.
How to Turn On the Raspberry Pi
The user must first insert the micro-SD into the underside slot on the Raspberry pi.
Once the Micro-SD is locked into place, attach the HDMI cable to the board and screen.
Then attach the keyboard and mouse into any of USB slots found on the Raspberry pi.
Finally plug in your power source to the appropriate slot on the Raspberry Pi and plug the other end into the wall
The operating system should start right away and the board can begin to be programmed.
You can check this out from:
1st floor Circulation Desk
Lost/Damaged Equipment Fee: