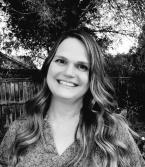 Title:
Institutional Repository Librarian
I am the Institutional Repository Librarian at Meriam Library which means I manage ScholarWorks at Chico State. ScholarWorks is a shared repository that collects, preserves, and provides access to scholarship by the research communities at the California State University campuses. Collections include CSU faculty publications, student dissertations and theses, datasets, and teaching materials. It is one central location for Open Access content created by our campus community.
I am also the liaison librarian to Anthropology, Child Development, Multicultural & Gender Studies and Psychology departments. I can assist with reference, primary source analysis, information literacy and research instruction.
As a first-generation college student, I received my Bachelor's degree in Anthropology from Chico State, my Master's in Anthropology from California State University, Northridge and my Master's in Library and Information Science from San José State University.  I have worked in libraries, art galleries, historical societies, museums, as well as the National Archives and Records Administration (NARA).