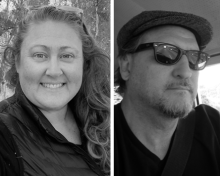 This month, we're highlighting two of our Meriam family by sharing their Five Favorite Books with the campus community -- or five of their favorite books, we should say, because who only has five favorites? 
Jodi Shepherd is the Acting Faculty Chair and Head of Library Acquisitions, Collection Management, and Evaluation at the Meriam Library. Jodi moved to Chico in 2008 and has held positions throughout the library, including as Interim Dean in 2021-2022. Before living in Chico, she received her BA in Political Science from Oregon State University and Masters of Library Science from Indiana University, Bloomington. Between her degrees, Jodi was a professional raft guide, guiding in Oregon and Alaska, she still gets on the water in her kayak or raft as much as possible. She is also an avid traveler, having visited 24 countries and 34 states.
George Thompson is a faculty librarian and Head of the Special Collections and University Archives unit of the Meriam Library. He received his Bachelors of Arts in English from the University of California Irvine, and his Masters in Library and Information Science from San Jose State University.  
These two librarians have selected a variety of titles that are hard to typify.  From classics of science-fiction and to detailed takes on current events, their choices span genres, themes, and generations.  We hope you try one of their favorites.  And if you're recently tried a book our of your comfort zone, what did you read?  Was it more or less challenging than you expected?  And, as always, feel free to share your own five favorite books in the comments.  
* * * * * * * 
JODI SHEPHERD
The Midnight Library by Matt Haig. This book was recommended to me based off of my Goodreads account. Part Sci-Fi, part meaning of life, The Midnight Library explores the possibility of a world between life and death -- specifically the main character is in a coma.  She experiences the lives she could have had if just one thing went differently -- things as small as taking a different train one day or deciding to go out with friends instead of staying home. Some of the story lines are more significant: what if she had married her previous boyfriend or if her brother had made different life choices. It made an impact on me to think about what might be different if…
Blowout by Rachel Maddow. Blowout chronicles the history of oil in the US, Middle East, Russia, and Africa bringing together all the players and detailing the lack of regulation, policy, and oversight the oil industry has enjoyed and profited from. Full of unbelievable corruption and benign stories which have helped underregulate and deregulate the behemoth oil industry. This book was not only memorable, but also shed a different light on the importance of Ukraine to Russia.
Shutterbabe: Adventures in Love and War by Deborah Copaken Kogan. Kogan details her life as a photojournalist in the late 1980's. Naive and fresh out of college, she fought for exciting and adventurous assignments, but came to realize everywhere she went had a story. From the female photojournalist perspective made this an interesting and impactful book. As a female, her experiences in Afghanistan, Africa, and Asia, were unlike those of her male counterparts. One particularly memorable portion of the book was when she was sent to "some square" in China and documenting the Tiananmen Square protests and massacre.
My Antônia by Willa Cather.  This 1918 novel portrays the life of immigrants in the Great Plains as experienced by a young "American" in the 1900's. Mostly focused on Antonia and her family who have left their Russian homelands with nothing and started over on the plains, Antonia's family makes do with what they can. The family often remembers their homeland fondly and there is great sadness for not having the opportunity to thrive in rural America. Hardship overwhelms the storyline, yet you are always hoping that Antonia has the strength to endure. Many stories are interwoven in this short novel.
American Psycho by Brett Easton Ellis. It's CRAZY! The movie did not do this book justice. Narrated from the mind of Patrick Bateman in the early 1980's. He fantasies about what he could do to those around him. Reality mixes with delusion and one never really understands what is happen and isn't. This very well written novel sucks you into a world that of high society that is on the edge of psychosis.

* * * * * * * 
GEORGE THOMPSON
Who Fears Death by Nnedi Okorafor.
Parable of the Sower /Parable of the Talents by Octavia Butler.
Passing the Time in Ballymenone: Culture and History of an Ulster Community by Henry Glassie.
Master and Commander (and the whole Aubrey/Maturin series) by Patrick O'Brian.
Ulysses by James Joyce.