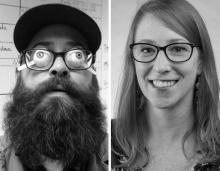 This month, we're highlighting two of our Meriam family by sharing their Five Favorite Books with the campus community -- or five of their favorite books, we should say, because who only has five favorites? 
Irene Korber is a faculty librarian and Head of Library Research, Instruction, & Outreach at Meriam Library. Irene worked as a staff member on campus for eight years and as a lecturer for four years before obtaining her tenure track position with the library in 2016. She earned her B.A. in Human Geography & Planning at Chico State and her Masters of Library and Information Science at San Jose State University. In a previous life she toured the US playing in punk bands and spent over a decade volunteering as part of a local collective that hosted punk, indie, and metal shows in many venues, houses, back yards, and basements around Chico.   
Joshua Gossman is a Library Support Assistant for Meriam Library's Research, Instruction, and Outreach Department, and the person the team relies on most to schedule classes and programs for library instruction.  Josh holds a B.A. in Psychology, a B.A. in Philosophy, and a Masters of Science in Psychology, all from Chico State. 
Josh and Irene have shared a great selection of favorite books with us -- from classics in children's and world literature, to titles that illustrate the best and worst of humanity.  We hope you try out one of their favorites.  Do you lean toward specific categories in your own reading, or do you explore different genres?  Why not share your own five favorite books in the comments?  
* * * * * * * 
IRENE KORBER
A People's History of the United States by Howard Zinn.  This title was used as required reading in my college history class (here at Chico State!) and opened my eyes to the inaccuracies most of us are taught via nationalistic historical narratives.  Zinn writes through the lens of oppressed, silenced, and marginalized peoples who have traditionally been excluded from historical narratives, and created a beautiful and moving work in doing so.
Teaching to Transgress by bell hooks.  In this work bell hooks writes about liberatory and feminist pedagogy and praxis, challenging educators to challenge oppression, racism, and sexism in the classroom.  She builds off and adds to the groundbreaking work of Paulo Freire, who was an advocate for critical pedagogy. hooks has been an inspiration in my growth as an educator.
Maus by Art Spiegelman. Maus was the first graphic novel I ever read and it introduced me to how this particular medium can tell difficult and harrowing truths of life, making radical, troublesome, or painful topics more accessible to readers.  This book ignited my now lifelong love of graphic novels.
Timequake by Kurt Vonnegut.   One of my favorite authors of all time, it was difficult to choose just one of his titles. Vonnegut's dark humor and irreverence coupled with what have been coined "Vonnegut-isms" – silly but somehow impeccable philosophical observations about life – make for delightfully entertaining stories about the human condition. "So it goes."
I am a Monster by Joe Mathieu.  This was my favorite book as a child, so I couldn't leave it out!  Herry Monster walks the reader around Sesame Street introducing his monster friends and showing the reader that despite their differences the monsters share many similarities. The illustrations are adorable.
* * * * * * * 
JOSHUA GOSSMAN
Crime & Punishment by Fyodor Dostoevsky.
Brave New World by Aldous Huxley.
Hyperion by Dan Simmons.
Theory and Practice of Group Psychotherapy by Irv Yalom.
The Fellowship of the Ring by J.R.R. Tolkien.
A man of few words is our Josh :)