Submitted by ikorber on Fri, 03/03/2023 - 2:30pm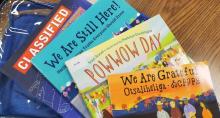 In partnership with the School of Education, Meriam Library now has curriculum kits available for checkout!
Funded by a Student Learning Fee grant, these new curriculum kits are designed to support pre-service teachers by providing materials in support of making the world a better place through protecting and caring for the earth, the environment, and each other. Children's literature is included in each kit along with supplies and curriculum ideas to be used in our practicum students' placements. The kits are on Course Reserve and available now!
For information or inquiries about the kits, contact School of Education faculty member Dr. Char Moffit at camoffit@csuchicop.edu or Meriam Library faculty member Irene Korber at ikorber@csuchico.edu.