Submitted by jrshepherd on Wed, 09/13/2023 - 9:50am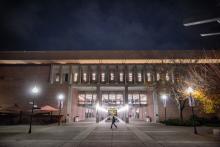 1st Floor Redesign Survey
The Meriam Library has contracted with an outside architecture firm, LPAS to examine the 1st floor design and layout.
We want to learn from those using the space what you think of it!
This short, 3-minute survey will provide us with information on how you are using the 1st floor and what would be beneficial to have in the space.
Access the survey: 1st Floor Meriam Library Design Survey
Thank you for your time and participation. If you have questions, please email Jodi Shepherd at jrshepherd@csuchio.edu