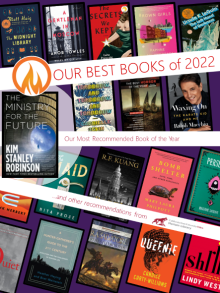 Happy Holidays to you, Dear Readers!  With another year at its end, your friends at Meriam Library wanted to send you out with good thoughts, and we wanted too to share with you our favorites among the books we read within the past year.  Our hope is that you find a few likeminded folx within the library, and perhaps your next great read as well!  2023 promises for some exciting things for those of you wanting to dig a little deeper into Meriam's collections – but before then, we hope this finds you doing and feeling well, warm with the good wishes of those you love and care for most.
And here it is… our Favorite Books of 2022! 
A few titles get special callouts this year:
Kim Stanley Robinson's latest novel, The Ministry for the Future, was the most selected as the year's favorite title, including by two of our librarians, George and Irene.  Robinson's novel proposes "a more hopeful future, one where humanity has managed to overcome our challenges and thrive. It is a novel both immediate and impactful, perfect for his many fans and for readers who crave powerful and thought-provoking sci-fi stories."
Tomorrow, and Tomorrow, and Tomorrow by Gabrielle Zevin was the other title to receive two mentions. "A modern love story about two childhood friends, Sam, raised by an actress mother in LA's Koreatown, and Sadie, from the wealthy Jewish enclave of Beverly Hills, who reunite as adults to create video games, finding an intimacy in digital worlds that eludes them in their real lives."  A library staffer called this "a lovely story of friendship and kindness."

Jodi selected Lara Prescott's The Secrets We Kept, as her favorite of 2022, sharing "This book is a fictional account of a spy who helped smuggle the book, Doctor Zhivago, out of the USSR, which revolved around true events of the CIA publishing the book in Russian to smuggle it back into the country.  The CIA believed the reading of this book would influence Russians against communism. It is astonishing that the CIA valued books to this level, something I don't think would ever happen today, in fact, Russia is doing a good job of using social media in a similar way against the US."

With The Midnight Library, by Matt Haig, Julie "loved the idea of being able to change your regrets and see how life would have been if you chose a different path," and called it out as her favorite of 2022.  Brandon loved The Sellswords Trilogy by R.A. Salvatore: "The adventure and world building is extravagant. The character interactions and dialogue was also super well done."

Regarding the book Queenie by Candice Carty-Williams,  one library reader simply stated: "It was so funny, until it wasn't."  Another reader picked The Best of the Best Horror Fiction of the Year, edited by Ellen Datlow for the "tons of exquisitely creepy horror short stories from well-established and newer authors." 

Michelle selected The Left Hand of Darkness by Ursula K. Le Guin.  "It was written in 1969, yet it is so relevant today," she offered.  "Seemingly all is well on the planet, but the segregation, racism, resource disparity is all simmering below the surface ready to explode."  And Mike B. cut to the chase with his pick, A Hunter-Gatherer's Guide to the 21st Century: Evolution and the Challenges of Modern Life by Heather Heying and Bret Weinstein, for its "interesting explanations of why so many of us are struggling in this modern age."

Finally, Christina H. picked a title we can all recognize: Waxing On: The Karate Kid and Me by Ralph Macchio. "Most librarians read classy literature," she shared. "Not me! I read far too many celebrity memoirs and they tend to be gossipy; this was just a lovely story of Ralph's journey from Karate Kid movies in the 1980s to the Cobra Kai series of today. He seems very down-to-earth and this was a light, easy read." 

These are just some of the titles we picked for our 2022 favorites – books that gave of an escape from the day or asked us to dig a little deeper – but you can spot many more titles we loved in the graphic above.  Have a favorite of your own you want to share?  Interested in sharing them with the library?  Leave your thoughts on your books of 2002 below, and until we are able to talk again, we at Meriam Library wish you the happiest of holiday seasons, and the very best year ahead!