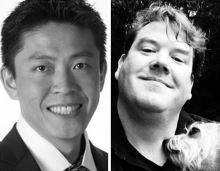 This month, we're highlighting two of our Meriam family by sharing their Five Favorite Books with the campus community -- or five of their favorite books, we should say, because who only has five favorites? 
John Wang is our new Dean of the Library for Chico State, coming to us from the University Libraries of Notre Dame.  John holds a Master of Science in Information Systems from Pace University and a Master of Library and Information Studies from Queens College.  Mike Watts is the Facilities Operations and Student Personnel Coordinator, being on staff at Meriam Library for 25 years. Prior to Chico State, Michael made his way through several community colleges in California and ended up in Upstate New York at Hartwick College, where he was a writer and editor for the alumni magazine and held his first library position in Interlibrary Loan.
There are some terrific selections from our two personnel this month -- we hope you give one of them a read!  Which are you most curious about, and what titles would you list as your own Five Favorite Books?
JOHN WANG
Twenty Thousand Leagues Under the Sea by Jules Verne. This is my all-time favorite science fiction novel, as it is way ahead of its time in painting a realistic future. My imagination was captivated while journeying through undersea adventures. I enjoyed reading all of Verne's work. He was one of the few authors who created this genre.
The Adventures of Sherlock Holmes by Arthur Conan Doyle is also my all-time favorite and a timeless piece. I could not put it down and had to binge-read all the short stories throughout the night. It was a thrilling experience to solve the seemingly impossible cases with Holmes and Watson.
Romance of the Three Kingdoms by Luo Guanzhong. This is one of the four Chinese classics that fascinated my childhood. It offers a glimpse into a particular war-ridden ancient time of China based on historical facts. As a young boy, "romance," such as brotherhood and heroism, was more appealing than those in A Dream in Red Mansions. It was epic in the storytelling of battles, diplomacy, and military strategies and depictions of various characters.
Les Misérables by Victo Hugo.  All the above books were from my father's collection. I felt it was the best gift for my sister and me. This book wrestled love and laws and good and evil, fully portraying complexity in human desires, emotions, determinations, and potentials. It is a story of humanity's struggles, perils, and possible transformations.
Moneyball by Michael Lewis. One of the best sports books I read. This story is about pursuing a dream of winning the Major Leagues with a limited budget. A seemingly impossible task met with an innovative approach, defying traditional wisdom - giving hope to anyone or any organization with limited resources.
* * * * * * * 
MIKE WATTS
The Pilgrimage by Paulo Coelho. While Coelho's The Alchemist has become a favorite of many households, I have connected more with The Pilgrimage. I'm a sucker for a great road trip story; On the Road, Blue Highways, and Zen and the Art of Motorcycle Maintenance are books I've read numerous times throughout my life. Something about the spiritual journey of self-discovery in The Pilgrimage has stuck with me though. There is something mystical with a unique use of language and parables with certain South American authors that I am drawn to. Which leads me to…

Literally anything by Jorge Luis Borges. Almost all of his published works are anthologies and there are many versions, so it's hard to pick just one, but if I did it would be The Library of Babel, with illustrations by Erik Desmaziere. It is a short read but contains so many puzzles and fascinating ruminations on language and alternate realities, that you could read it 100 times and still get something new out of it every time. It's fiction but doesn't read like it. The first line had me hooked when I read it as a teenager: "The universe (which others call the Library) is composed of an indefinite, perhaps infinite number of hexagonal galleries."
Continuing on with the theme of light breezy reading, Dante's Divine Comedy, Adaptation by Seymour Chwast is my third choice. I've tried to get through the original classic from the 14th century many times (as I have also tried to do with Milton's Paradise Lost), and as I get older I am able to connect more pieces together, still not there, probably never will be. This adaptation is a graphic novel and it's brilliant, funny, and told in a way that is easy to understand. Makes me (almost) want to tackle the original again!
Fahrenheit 451 by Ray Bradbury. The simple summary is about book banning/burning, but it is told in a way that relates to current society in so many ways, thought control through mass media, freedom of speech, etc. A classic taught in any American literature class, but one that seems to ring truer by the day.
To end with something lighter, Darth Vader and Son by Jeffrey Brown. As the father of three boys (two of which are now Chico State students!), this was a fun one to share with them when they were younger. It's a short graphic novel where The Dark Lord Vader is an average dad trying to raise his son, and who can't get a kick out of "Take Your Son to Work Day on the Death Star"? Honestly this is not just for kids, it's funny and witty with inside jokes that many kids won't even get. A fun read for any Star Wars fan!