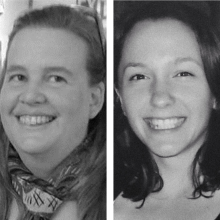 This month, we're highlighting two of our Meriam family by sharing their Five Favorite Books with the campus community -- or five of their favorite books, we should say, because who only has five favorites?  Hillary McHenry is one of the faces you'll see in our Circulation department, though she has also worked in Building Management.  Hillary has a Masters in Library Science from Emporia State University in Emporia, Kansas.  Cassandra Kassel is in our Library Administration office, her first position on campus, and she earned her Bachelor's in Psychology from Chico State.  Cassandra and Hillary have shared some great selections with us.  Which is your favorite, and what titles would you list as your own Five Favorite Books?
HILLARY MCHENRY
Born a Crime: Stories from a South African Childhood by Trevor Noah.  A coming-of-age story told with loads of humor, insight, and more humor, set in a foreign country? Yes, please! Just like Trevor Noah, this book is both hilarious and thought-provoking.
The Soul of an Octopus by Sy Montgomery. A fascinating book about an endlessly fascinating creature. If you have any interest in ocean life or a love of animals, I can't recommend this book highly enough.
Harry's Trees by Jon Cohen is a great book to read if you are looking for an uplifting, magical, heartfelt adventure story. It's a bit of a fairy tale for adults and is an enjoyable escape. Bonus points for the gorgeous cover.
Although The Sentence by Louise Erdrich is a novel, it features lots of real-life book recommendations. The main character works in an independent bookstore, where the author (who owns an independent bookstore) makes a cameo appearance as a very minor character, all of which adds to the bookish fun. It's not all fun and games though, as the book addresses some intense current events such as COVID-19 and the protests following the murder of George Floyd. While there are many complex layers to the book to contemplate, the writing style is very approachable and unpretentious.
I am not much of a series reader, but one notable exception is the Chief Inspector Gamache series by Louise Penny. Still Life is the first book in the series, and while I think some of the books further into the series are even better, I wanted to highlight the first book because this is a series that needs to be read in order. Louise Penny is a master at character development and many of the characters in Still Life are featured in subsequent books. She has an amazing way of slowly peeling back the layers of her characters and revealing their complexities gradually over time.
* * * * * * * 

CASSANDRA KASSEL
The Hot Zone by Richard Preston.  A terrifyingly true story that will stick with descriptions that stick with you long after you have finished the book.
Ready Player One by Ernest Cline.  A far better book than movie. This book you cannot go wrong with because of its action, video game references, and its dystopian future depiction.
The Alienist by Caleb Carr.  A psychological thriller crime novel that is well paced with dark humor spattered throughout the book.
Batman: White Knight by Sean Murphy is a twisted standalone take on familiar characters that changes the way you may view a villain. From the story to the art, it is something I highly recommend.
Metamorphosis By Franz Kafka.  This is a wonderful book about what it is to adapt to change or resisting change.