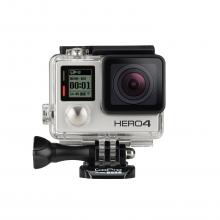 Take very high quality video and images at up to 4K at 15fps, 2.7K at 30fps, 1080p at 60fps, or 720p at 120fps
Optional Items (not provided)
Curved or flat adhesive buckle mount (sold in the campus bookstore)
Features
Built-in touchscreen
Waterproof housing (131 feet deep)
Wide variety of mounting options
Check out GoPro tutorials.
Suggested Settings for Beginners
Video Setting: 1080p Wide at 60fps Shoot at 170 degree field of view with the option to slow the action.
Burst Mode: Capture all the action with 30 images in 1 second or 30 images in 3 seconds
Time-lapse Photo Mode: Shoot a great sunrise or sunset at 2 second intervals. Or use this setting with the burst mode and shoot 1 image every 0.5 seconds. (Perfect for selfies).
Auto Low Light: Seamlessly capture scenes that range from bright to low light – without adjusting anything.
QuickCapture: Enable this setting and you can start recording (video or time-lapse photos) in just one click.
Protune: This is an advanced setting that captures more detail in your photos and videos. In post production, you can bring out more detail and get a truer color.
Includes:
Camera

Clear case with mount

Extra case door

2 extra mounts

3 batteries

Battery charger

1 microSD card (1 has a 32 GB card, the other has a 64 GB card)

SD card reader

2 USB to mini cables

Selfie stick

2 selfie stick straps

Quick start guide
You can check this out from:
1st floor Circulation Desk
Lost/Damaged Equipment Fee: