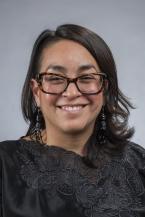 Title:
Archivist & Librarian Lecturer
Office Hours:
By appointment only.
Email me!
Stefani is an Archivist in the Special Collections and University Archives Department and a Lecturer Librarian, where she performs reference, instruction, and outreach activities. Stefani applies communication theory and learner-centered pedagogy in information literacy instruction; she is skilled in designing and implementing information literacy instruction for group training sessions, and individual student consultations, in a variety of formats. 
SLC Library Resources Workshop
SLC Getting Organized with Google Workshop
OneSearch Puzzle 
Dance Music Spaces Book Event
Student Voices
Below is a video that demystifies the research process, Quetzal-Kuhthau.
Stefani organizes Wikipedia Edit-a-thons for Meriam Library to improve students' awareness of primary, secondary, and tertiary sources in their research, increasing students' digital literacy, fostering a sense of public intellectualism in young editors. She has organized Wikipedia Edit-a-thons for Black Liberation Month, Women's Liberation Month, and Native American Heritage Month.
Stefani is a member of the 1st Gen Staff and Faculty group as well as the Historian for the Chico State Chicano/ Latino Council. 
She co-chairs the Society of California Archivists Ethics and Inclusion Committee and co-facilitatates the California State University Archives and Archivists Roundtable.
Along with the Special Collections department, Stefani has contributed to the Chico Archives Toolkit (CAT) project, to help students incorporate records management best practices into their student organizations, increase student representation in the University Archives, and promote the University Archives as a resource within the campus community.
Stefani's research interests include Latinx leadership in libraries, critical race theory approaches to archival work, teaching with primary sources, and diversifying collections through oral histories.  
Her undergraduate degree was awarded in 2010 from Humboldt State University in Native American Studies. She received her MLIS in 2016 from San Jose State University. 
Recent Publications
Graham, B., Baldivia, S., Cuthbertson, W., Leon, K., Monson, J., & Trask, J. (2021). Collecting First-Generation Voices in Academic Libraries and Archives. College & Research Libraries, 82(1), 44.  https://doi.org/10.5860/crl.82.1.44
Baldivia, S. (2021). De/Constructed Finding Aid Puzzle. In J. M. Porterfield (Ed.), Teaching with Primary Sources Cookbook. Chicago: Association of College & Research Libraries. http://hdl.handle.net/20.500.12680/9k41zk681
Baldivia, S. & Leon, K. (2022). Building stories and Changing Spaces. In L. Gonzales and M.H. Kells (Eds.), Latina Leadership: Language and Literacy Education Across Communities. NY: Syracuse University Press.