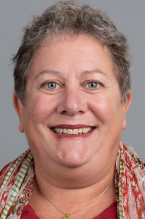 Title:
Librarian for Agriculture, Sciences, and Sustainability
Michelle Mussuto is the newest faculty librarian at CSU Chico's Meriam Library. Her outreach and instruction are focused on the College of Agriculture, Natural Sciences (Biology, Chemistry/Biochemistry, Physics, Environmental & Earth Sciences) and Nutrition and Food Science. In addition, Michelle is involved with the campus's sustainability efforts and is the liaison to the Center for Regenerative Agriculture and Resilient Systems.  While new to Meriam Library, Michelle's past experience in academic libraries includes as Acquisitions and Collection Development Coordinator at SUNY Maritime College; Research Assistant at McGill University's Rare Books library; and, as a cataloger for architectural artworks at the Canadian Centre for Architecture. Previous to her work in libraries, Michelle worked in outreach and education, and public relations for the California Department of Public Health and the California State Teachers' Retirement System.
Michelle's research interest include libraries' roles in addressing climate change and sustainability; using innovative research methods such as photovoice; and, the effect alternative forms of teaching (e.g., using Zines) has on students' learning retention (she is currently working on a grant to fund this research).
Michelle encourages students and faculty to use Meriam Library's vast resources. Libraries are not just about books and ebooks! We offer instruction on information literacy and research principles. We offer a 3-credit course LIB 130 - Introduction to Undergraduate Research. You can check out all the latest technology for your coursework and of course you can find individual and group study areas. Best of all there are myriad ways to get research help from librarians: 24/7 chat/text, drop-in reference hours, and 1-on-1 appointments.