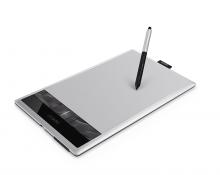 Bamboo Capture helps you take your digital imagery to the next level. Restore old photos, make your portraits come alive, remove unwanted details, improve skin tones, and create your own compositions.
Bamboo Capture also features multi-touch input, so you can use the tablet to zoom in on your photos, scroll through albums, and navigate your way around your computer, using the familiar gestures of a mobile device.
Screen size: 5.80" x 3.60"
You can check this out from:
1st floor Circulation Desk
Lost/Damaged Equipment Fee: