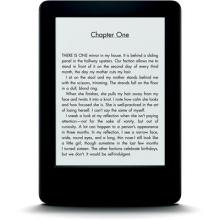 We offer Amazon Kindle eBook readers for checkout to CSU, Chico students, faculty and staff. Courtesy patrons and non-affiliated users are not eligible. The Kindles come with carrying cases, USB cables/power adapters and use a proprietary format that restricts content to titles purchased from Amazon.com.
Kindle Titles Available
We will be adding titles to our Kindles on a regular basis. These titles will be in the Library Catalog. You can search for a particular title to see if it is on the Kindle. You can also review a list of Kindle titles by looking at the "Added Author" portion of the bibliographic record.
Fines and Fees
The late fees are $10 per day to a maximum of $70. Any Kindle that is overdue will be declared lost after 7 days. Charges will be based on the cost of the Kindle & its accessories plus fines and processing fees. If the Kindle is returned within 6 months from the date of payment in good working order the item cost and processing fee may be refunded. The fines will not be forgiven.
Adding Other Materials
If you are interested in adding additional items to a Kindle including books, newspapers and magazines you can register the Kindle to your own Amazon account while borrowing it. Please note that the Kindle will be reset once returned.
You can check this out from:
1st floor Circulation Desk
Lost/Damaged Equipment Fee: