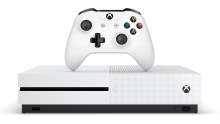 Room 260 has an Xbox available for students to play their own games or games from the library collection.
Steps to play in our Xbox study room are:
Optional: Pick out some games to play from our collection on the 2nd floor (next to the Copy Center)
Go to the checkout desk, and borrow the Xbox controllers (and/or games you've picked).
Go to room 260 and enjoy!
You can check this out from:
1st floor Circulation Desk
Lost/Damaged Equipment Fee: