Submitted by pkruger on Thu, 03/05/2020 - 1:03pm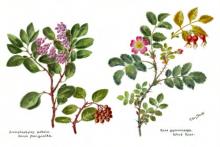 From February to May 2020 some of Edward Stuhl's beautiful watercolors are on exhibit at the Gateway Science Museum.
Edward Stuhl (1887 –1984) was a Hungarian-born hiker and painter who settled in the Mount Shasta region in the early 20th century after traveling throughout Germany, eastern Europe, and Mexico. Stuhl spent much of his life hiking and camping throughout northern California and Mt. Shasta. He carried with him a pack full of paintbrushes and canvases, documenting the flora he encountered through watercolor paintings that are still used by naturalists as visual guides to northern California wildflowers.
Wildflowers, Watercolor & Wonder: The Edward Stuhl Collection is an exhibition featuring Edward Stuhl's original watercolors housed today by California State University, Chico's Meriam Library's Special Collections.  Exhibition of a selection of his botanical watercolors in combination with plant specimens from the Chico State Herbarium will invite visitors to explore themes of botanical art and local and regional natural history.
For more information contact: