Submitted by jrshepherd on Wed, 06/24/2020 - 11:00pm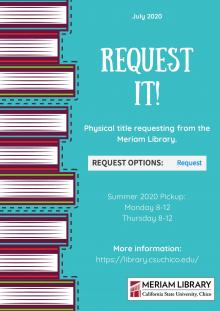 The Meriam Library is excited to announce that books and media titles can now be requested through OneSearch. For Summer 2020 the requested items are available from the Main Collection, Folio, Author Wall, Juvenile Collection, Popular, media, and a limited number of reference titles. Requesting is only available for CSU Chico students, staff, and faculty.
Be sure to sign in to see the request button.
You Tube video:  Requesting a Book
To request a title:
1. From the library's homepage, search for the title or subject that you are looking for. If you are only looking for print materials in the Meriam Library, select "Books @ Chico" under "Search Scope."
2. Click the Search Button
3. Sign into OneSearch to access the request button (only students, staff, and faculty)