Submitted by jrshepherd on Mon, 04/20/2020 - 12:30pm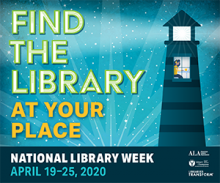 It is National Library Week 2020!
Discover your place a the library through our virtual resources, databases, reference and research help, and social media posts.
Parlez-vous français?



Did you know that you can learn a forgein language through the Mango database? You will be saying "Je suis amoureux de ma bibliothèque" in no time.
Teddy was a Governor? Learn some history!
Want to travel back in time and see what people were talking about in 1900? Check out the library's historical newspapers: 
Fiction, movies, audiobooks? Pass the time with a good book!
How about movies, audio books, and fun ebooks? The Meriam Library has partnered with the Butte County Public Library which provides access to fiction ebooks and movies! Find your next greatest read with OneCard. Use your 2020xxxx library barcode number on the back of your WildCat id to login. More information about logging in.
The Meriam Library is on Social Media!
Follow the Meriam Library on:
Don't forget, we are here to help you!
Contact a Reference Librarian via chat or Zoom.