Submitted by jrshepherd on Mon, 10/05/2020 - 10:53pm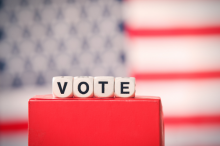 Where do you get your news and information in today's ever in your face social media world? Twitter? Facebook? Google? News website? NPR? TikTok??
My name is Jodi Shepherd, I oversee the research collections at the Meriam Library and would like to let you know about two great resources we have to keep you up to date and informed. It is voting season, and in case you haven't noticed, there are a lot of important decisions in this election. In addition to the "biggies" like the Presidency and our House Representative for Northern California, there are also city council and school board elections as well as 12 propositions! As my 4 year old niece says... oh man (works best with a head tilt and nod).
Don't know what's what? That is not a problem, you have time. You even have time to register to vote if you haven't. You can drop off your ballot at the BMU, at the Butte County Public Library,  or at several other places in Butte County. I am an A+ procrastinator (I started this at 10:00 the night before it was due), but I am going to make sure to get my ballot in WAAAYYYY ahead of time. That allows the ballot to get where it needs to be to be counted. I am even tracking my ballot to see that it arrives. I like California 2020 props explained in 1-minute videos, so in 12 minutes I can at least have a clue about the 12 props. My ballot counts, your ballot counts, the mayor's ballot counts, and my neighbor's ballot counts, so make sure your voice is heard.
Two all around awesome and informational resources on today's politics and issues:
CQ Magazine and CQ Researcher.  (I know, it sounds a lot like "GQ" but that's a different type of publication.)
CQ Magazine covers what is going on in Washington DC. You might know of that quaint town on the east coast? Occasionally things happen there that affect your and my life. Sometimes it's good to know what is going on. CQ Magazine covers what is going on at Capital Hill and presents it in an unbiased and direct manner.
But don't take my word for it! Here are some stories from October 5, 2020:
Amy Coney Barrett's confirmation would tilt the court's ideological balance to the right. Tell me more!
States push for more funds and guidance on vaccine distribution. How do we get it to the people (when it exists)??!
U.S. Agency for Global Media under a Trump ally: Unrecognizable. Is the U.S. Agency for Global Media important?
Right now is a great time to learn more about what is happening in our nation's capital. Regardless of political affiliation, CQ provides an overview of actions on the hill, important topics that are rising, and reports the daily calendar for the House, Senate, committees and the White House.
My personal favorite column is ICYMI... hits the highlights! 
CQ Researcher: In-depth reports on today's issues
Terrific, thorough, and on point, CQ Researcher takes a dive into topics that are affecting us today- Covid-19 and higher education, Social Media Platforms, The News Media, and Inequity in America are just a few of the topics covered in 2020.
"In-depth" includes a full background overview, an extensive timeline, outlook, Pro/Con, and an overall review of the current situation. These reports will bring you up to speed on today's issues in no time, plus they are easy to read because they are straight forward and clearly written.
Take a look for your own personal interest, to be a better citizen, for course research, or to be that person who says "well actually, I saw..." when someone talks about the issues. Just be sure to do it socially distanced... with masks on... better yet, how about over Zoom?