Submitted by rwschwab on Wed, 04/03/2019 - 1:01pm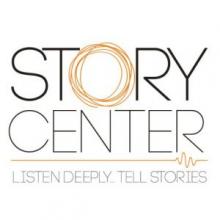 Over the last year, StoryCenter and the California State Library worked with public libraries around the State in eight counties (Lake, Mendocino, Napa, Santa Barbara, Sonoma, Shasta, Ventura, and Yolo) in collecting personal reflections and stories for the California Wildfire Story Project, as part of their larger California Listens story effort.
In light of the impact of the Camp Fire on the larger Butte County community, StoryCenter and its founder and director Joe Lambert, will be focusing for the next several months in a partnership with the Butte County Library and the Meriam Library at CSU-Chico on bringing their process of listening and reflection in the context of recorded conversations to your community.
California Wildfire Story Project - Butte County
Free interviews Sessions for one or two people
Monday April 8, 4 - 7 pm
Tuesday April 9, 11 am - 1 pm
Friday, April 19, 2-5 pm
Meriam Library - CSU Campus, Room 227
Saturday, April 20, 10 -4 pm
Butte County Library Maker's Space
1108 Sherman Ave, Chico
All Events Free and Open to the Public
As Joe Lambert, Founder and Executive Director of StoryCenter mentioned, "the stories of those affected by the mega-fires of last several years are now an important part of California memory, and deserve to be collected and maintained as part of sustaining our awareness of how our state is coping with the intersection of climate change, environmental and land use policy, and managing the resource of our wilderness areas. The stories of the communities of Butte County are both testament to our resiliency as communities, and a warning about what more can be done to limit the destructiveness of these fires in our communities."
StoryCenter, the Butte County Library and CSU-Chico also realize that speaking about the experiences of the Camp Fire could bring up powerful emotions and issues. All participants will be provided the short list of questions in advance, and will be encouraged to review them to consider their readiness to speak about any part of their experiences. In addition, participants are encouraged to consider additional counseling support through the services of Butte County Behavioral Health, before or after participation. They can be reached at 800.334.6622 or 530.891.2810.
The oral history project uses StoryCenter's unique new Listening Station kit, an iPad-based recording kiosk and archival management system, and both the Butte County Library and the Meriam Library will continue to use the kits as part of their public activities. The recordings and excerpted edits will become part of the California Listens public archive.
All events are welcome to the general public and free.
Contact Joe Lambert, StoryCenter, joe@storycenter.org, for more information.