Submitted by dgreenberg on Thu, 03/14/2019 - 2:46pm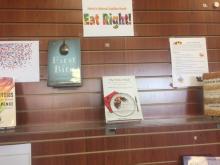 Meriam Library is celebrating National Nutrition Month during the month of March! National Nutrition Month is an annual nutrition education and information campaign created by the Academy of Nutrition and Dietetics. This campaign focuses attention on the importance of making informed food choices and developing sound eating and physical activity habits. Some key messages from this campaign are:
Discover the benefits of a healthy eating style.
Choose foods and drinks that are good for your health.
Select healthier options when eating away from home.
Be mindful of portion sizes.
Keep it simple.
Make food safety part of your daily routine.
Help reduce food waste.
Be physically active.
Consult the nutrition experts if necessary.
Check out the display on the 4th floor of the library where you can find a number of books on nutrition.