Submitted by dgreenberg on Fri, 04/05/2019 - 5:43pm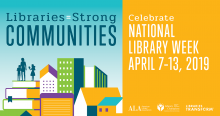 This week, the Meriam Library joins libraries in schools, campuses and communities nationwide in celebrating the dynamic changes that are happening in today's libraries. April 7-13 is National Library Week a time to celebrate the contributions of our nation's libraries and library workers, and to promote library use and support The National Library Week 2019 celebration will mark the 61st anniversary of the first event, sponsored in 1958.
This year's theme, Libraries = Strong Communities, illustrates how today's libraries are at the heart of our cities, towns, schools and campuses, providing critical resources, programs and expertise. They also provide a public space where all community members, regardless of age, culture or income level, can come together to connect and learn.
Library programs are designed to encourage community members to meet and discuss civic issues, work together using new technologies like 3D printing or learn alongside one another in English language or technology classes. Library staff also collaborate with other civic and service organizations to actively engage the people they serve, always striving to make sure their community's needs are being met. 
Meriam Library offers access to a variety of print and digital resources, including e-books, online databases, popular book, dvd, and graphic novel collections, and a collection of books for all disciplines that can be accessed in person or online. There is technology for borrowing, reservable study and creative spaces, and a Makerspace.
Libraries of all types are evolving to meet the needs of the communities they serve. Come by and visit-we are here to help! In addition, check out the display on the 2nd floor of Meriam Library. Feel free to check out a book or two on display!