Submitted by dgreenberg on Mon, 05/06/2019 - 10:08am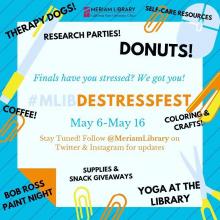 Finals have you stressed? We got you! Meriam Library will once again offer Destress Fest to help you relax and recharge during the last weeks of the semester. Our goal is to offer a welcome diversion, allowing you to chill, take a break and disengage from studying for a few minutes.
There will be a variety of fun activities including puzzles, stickers, crafts, buttons, crayons and coloring pages as well as study supplies, and snacks, while supplies last.
Other activities include Yoga, Bob Ross paint night, donuts, therapy dogs, research parties, free coffee, DVD collection, and self-care resources. All will take place in Meriam Library.
We hope you can then return to studying fresh and ready to go!
#MLIBDESTRESSFEST
Follow @MeriamLibrary on Twitter & Instagram for updates.
May is also Mental Health Awareness Month and mental health is something everyone should care about. Check out the display on the fourth floor of the library; where you will discover books to help with studying, examining mental health issues, and ways to cope. Feeling more stressed than normal or feel you need help check out the flyers posted on the display with information on where to get help on campus.
"Remember, we are pulling for you. We're all in this together!" Red Green