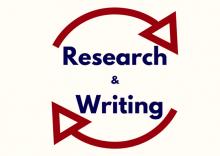 Students! Over in our Events listings, you'll see we're running a series of open workshops on topics designed to help with common research skills that may help with your end-of-semester projects.
Topics for the Research Ready Workshops in October and November are...
Evaluating Sources (Last workshop for October!)
Source Synthesis and Writing Literature Reviews
Advanced APA citations
Formatting your final paper for APA
The workshops are open to all, and are all located in MLIB 226.  Enrollment is capped at 24 students each, however, so sign up early for one or all of the series at https://library.csuchico.edu/workshops 
And if you sign up for a workshop but can't make it, no problem!  Please just come back to https://library.csuchico.edu/workshops to unenroll yourself so someone else can have your seat!
We hope you find the workshops useful, and if you have suggestions for other Research Ready topics, leave them in the comments below. :)