Submitted by dgreenberg on Fri, 11/02/2018 - 4:23pm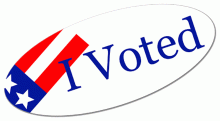 Election Day has come and gone. The right to vote should not be taken for granted, remember those who fought hard to allow all of us to vote. Here are a number of reasons to vote--So you can complain with integrity, if you don't vote for your own interests, who will?,  "Apathy gets you the government we have today." – Gil Sery, and because you get a free sticker! Check out the League of Women's non-partisan Voters Guide to help you decide who to vote for and on the propositions.  
Check out up-to-date results at the following link:
Semi-Official Election Results from the Secretary of State for California
Election results are updated as often as new data is received from county elections offices after the polls close at 8:00 p.m. on Election Day. Many ballots are not counted on Election Day; county elections officials plan to complete their work by December 7, 2018.