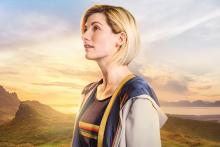 Jodie Whittaker's first season of Doctor Who came to a close this past weekend, leaving us all a bit saddened -- the actress gave a fresh take and a much needed boost in the ratings to the 50-year-old franchise.  But if you're looking for more strange tales to enjoy over the break (or far beyond), here are nine picks from Meriam LIbrary to satisfy your craving for stories of time travel, alien life, and unexpected friendship.
All these titles are linked to their record in OneSearch so you can get your holiday mittens on them quickly.  Did we miss any great titles, WIldcats? Let us know below, and we wish you happy travels to whatever year you find yourself in next!
Blackout by Connie Willis
Building on the universe she created in Doomsday Book, Connie Willis take her fictional Oxfordian graduate students on a journey to World War II to observe historic events firsthand  -- specifically The Blitz, the bombing of the city of London by German air forces.  Despite the group's preparations and apparently unlimited academic funding, something, of course, goes horribly wrong.  Blackout won the Nebula, Locus, and Hugo Awards for science fiction -- awards Connie Willis has been amassing throughout her long career.

Safety Not Guaranteed (2012)
Starring Aubrey Plaza (Parks and Recreation), Jake Johnson (New Girl), and Mark Duplass (The Mindy Project), Safety Not Guaranteed is a weird but warm film of magazine journalists sent to investigate the story behind a peculiar classified ad:  "Wanted: Somebody to go back in time with me. This is not a joke." The rest of the story, like most things, is better experienced than told, but the trailer gives you a fair idea of the fun you're in for.
Paper Girls by Brian K. Vaughan

Most people recognize Vaughan as the author of the widely popular Saga graphic novel series, which itself is a mix of fantastical ideas and what are at times all-too-human failings.  Paper Girls is something different -- more like a science fiction version of Goonies.  Set in 1988, four newspaper delivery girls find themselves set on a journey that really shouldn't be spoiled ahead of time.  But Cliff Chiang's pencils and Matt Wilson's coloring make the familiar world of quarter arcades and The Baby-Sitters Club seem otherworldly while still keeping this wild adventure accessible and real.
Arrival (2017)
While many people new to science fiction feel its themes too easily lend themselves to mockable melodrama or overt comedy, Arrival, based on a 1998 story by Ted Chiang, reminds us that the genre can also break your heart.  Unexpected and achingly powerful, Amy Adams (Vice, Sharp Objects) transcends all the genre's expectations.  This film shouldn't be missed -- and, library pro tip, give yourself time to watch it twice.
Binti by Nnedi Okorafor

Sometimes our lack of familiarity with a culture can make it seem otherworldly and alien, which is part of what makes Okorafor's series of novellas so engaging.  Newly accepted to a regarded university, Binti is of the Himba, a people who use otjize paste -- a mixture of butterfat and pigment -- to protect their skin and hair from the sun.  The Himba hair plaits here serve a key role in the overlaying science-fiction element of the Binti series -- but it is Binti's fear of being accepted at her school, and her wariness of students whose peoples are more often accepted to the university (and more expected to succeed) that got us hooked at the start.  
Rocket Girl (Graphic Novel) 

Only two volumes, Rocket Girl is compact series as far as graphic novels go.  But don't confuse brevity for lack of density as author Brandon Montclare serves a twisty tale of time travel, bad cops, and greedy corporations.  What really sells this title, though, is the beautiful artwork by Amy Reeder which is richly detailed and immensely expressive.  For more work from this well-paired duo, check out Moon Girl and Devil Dinosaur, too.
Outlander (2014 - )
Finding someone who has not heard of the Outlander novels from Diana Gabaldon is a bit of a challenge, but the television series is something else altogether: the show has been praised for its feminist take and presentation of consensual sex as well as for the depth in acting Caitriona Balfe (Money Monster) and Sam Heughan (The Spy Who Dumped Me) bring. What makes the series additionally notable is its unexpected lineage:  the show is produced and overseen by Ronald D. Moore, the same person who created the brilliant series reboot of Battlestar Galactica.
Kindred by Octavia E. Butler 

A painful, powerful story of time travel that gets at racial privilege, the legacy of slavery, and even the sacrifices of marriage, Kindred is at times hard to read and at others achingly subtle.  The original novel has been reimagined as a well-regarded graphic novel, but what we can't believe is that this powerful story has not yet been put to film.
Fringe (2008-2013)
Before J.J. Abrams was directing the Star Wars and Star Trek franchises, he created an amazing television series weaving together weird science and alternate realities.  The show wrapped after five years with an cast that included Anna Torv (Mindhunter), Joshua Jackson (The Affair, Dawson's Creek), Blair Brown (Altered States), Lance Reddick (The Wire) and John Noble (Sleepy Hollow, The Lord of the Rings) who gave his 'mad scientist' character unexpected humanity and depth.  The series is a cult favorite.